Bookmark us
and come back
whenever you
need a drink.
---

We love parrotheads!
---

Like us on Facebook!
Opens in new window
---
NEWS:
News: Sorry! The site went down for a minute or twenty on August 4th. because during some routine mantenence and installation we discovered that the previous owner of the building had no business wiring anything. We found this inside our wall. Needless to say, power to the building was cut off while it was removed.
NOTE: In order to welcome our mobile clientelle, we've switched to a smartphone-friendly (more or less) layout.
Bear with us; as we're trying to be helpful, we've tested it thoroughly, but not on every phone.

NEWS: So we've decided to roll out our BarHopper program as an online recipe book app. You can still purchase the standalone program of it for Windows/Linux by clicking here.
---
Today's Features:
---
YES! You CAN
still buy the original
BarHopper!
It's old but we LOVE it,
and you can store your
OWN recipes!
Click Here: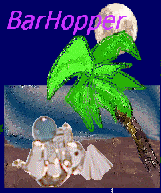 ---

---
We love Parrotheads!
We also love Visual FoxPro. In fact, this site runs partially on VFP!
..

Don't worry - clicking the banner opens the site in a new window. You can still keep searching for cocktail recipes uninterrupted.

This week's pop Quiz: Which of the above Z-P characters are drunk? Answer: Probably all of them. (Please drink responsibly!)

The bartender says

Too many results in this seach! We're taking you back to the main page. In five seconds.